Bounce Energy has absolutely the worst customer service I've ever experienced with any company.  Some of you may have read about my ongoing issues with them, which basically started with them screwing up from the very first day I had service with them.  They billed me for the wrong ESID #, for the wrong address.  Getting that sorted out, my proper ESID added, and getting the charges they tried to lump onto me for fixing THEIR mistake, and simply getting my bill straightened out has taken months of frustration.  I've been flat out lied to by Bounce CSRs, I've seen them repeatedly ineffectual at following through on what should be relatively simple changes/fixes that I was PROMISED by their supervisors would be handled that day, or the next . . . and I've received precisely a total of TWO return phone calls from anyone from Bounce ever.  Yet I've been told I'd be called back by someone there (after my issues were resolved, of course) probably a dozen times.
Yesterday, I got home from work, to find my apartment oddly quiet.  Why?  Because my apartment was devoid of power.  They'd frigging disconnected me.  By mistake/accident.  In calling them, on my cell phone, to get this mess sorted out, I got disconnected/hung up on twice.  I was spoken to rudely.  I was berated, accused of lying, and told flat out things that contradict the pink piece of paper I was holding in my hand from Bounce – the one that told me to either call them, or use their web site online to make my payment to avoid disconnection. The final supervisor I talked to was so confused by my bill from Bounce, she ended up arguing with me about what I'd paid and suggested that I was disconnected because I didn't pay enough.  I quite simply paid what their web site's billing section for my account said I owed.  Simple enough, right?  My current bill is really amusing.  My current monthly charges, indicated on it?  $-42.99.  Then there's the amount due for my Next billing cycle, not due until September 8th (Currently, nothing is due – zero balance – as the only semi-intelligent rep I spoke to observed, there's no reason I should have been disconnected) is $137.01.  Oh, but if I wait until After the due date . . . it's $134.86.  Wait, what?  I save $2.15 if I pay my bill AFTER the due date?
Lunacy.  Insanity.  Absolute, ludicrous incompetence.  After my power is turned back on, I'm looking for a new energy provider ASAFP.  I'm done with Bounce screwing up with me.
On more amusing notes, here's something that's just too awesome not to link:
Automatic Pancake Machine: 200 pancakes per hour
Next up, here's the next GenCon pic: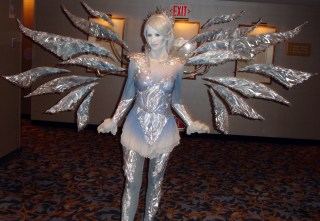 This girl was actually featured on an article on this year's GenCon in the Indianapolis Star: Despite recession, Gen Con Indy drew 27,900 I ran into her as she was waiting for the elevators on Saturday as I was heading up to grab food before my DM shift, and she was en route to the costume contest.